Catholic Committee on Scouting and Camp Fire

Religious programs are available to Catholic youth. Age appropriate activities are done from workbooks, with the guidance of a religious program counselor.  The activities help young people grow in their faith, and allow them to explore their role in their family life, parish community and local comunities.  A scout or Camp Fire youth may participate in one or more religious program during their scouting/Camp Fire career.

An adult receives religious recognition by nomination for his/her outstanding contributions to the spiritual development of Catholic youth.

Religious Emblems Programs


All young people who are interested in participating in a religious program can follow the guidelines below.  For those who are outside of the Diocese of San Jose, the names of the contact persons will not apply.  Please consult the NCCS regional web pages or contact your diocesan office for the contact person in your diocese.

  1.  Decide which program is appropriate.  See the descriptions of the programs below. 

  2.  Purchase the workbook for the program.  Each participant will require his/her own

       workbook.  Boy Scout workbooks can be purchased from your local scout shop.

       Girl Scout and Camp Fire workbooks can be ordered from the Girl Scout council

       office.  Workbooks may NOT be copied.

  3.  Contact the CCS member listed below for further assistance in the programs.  Some

       programs require that the participant work with a registered religious program

       counselor.  The Girl Scouts and Camp Fire require that all religious counselors be

       registered with the council office.  For the Cub Scout emblems, a parent can serve

       as the counselor.

  4.  Complete all requirements in the workbook by the deadline (see left) to qualify

       for the recognition ceremony.  Emblems for Boy Scouts/Venture/Explorers may also

       require completing a board of review .

  5.  The Cub Scout and younger Girl Scout/Camp Fire programs typically take 3-4

       months to complete.  The Boy Scout and older Girl Scout/Camp Fire programs can

       take from 5-6 months to complete.

  6.  Complete the application form in the workbook, which requires the signatures of the

       participant, a parent, and the pastor.  Send the completed application form, and the

       required fees for the medals, to the contact person listed below.  The contact person

       will know the current cost of the medals.

Religious Emphasis Projects for Girl Scouts, Camp Fire Members, Other Groups:

FAMILY OF GOD  (2nd & 3rd grades):

Children explore a wide range of family and parish activities in order to discover the presence of God in theor daily lives.

I LIVE MY FAITH  (Ages 9 to 11):

This program focuses activities around the participant's developing awareness of her/his growth as a person, friend, family member, citizen and believer of faith.

MARIAN MEDAL  (Ages 12 to 18):

Program paricipants gain an understanding of Mary as the model of openness and spirituality.  The program helps young people develop a Christian spirit of hope and faith through projects, discussion and liturgical celebrations.

SPIRIT ALIVE  (High School age):

This program assists participants in discovering how the Holy Spirit moves in their lives, calling them to greater participating in Church ministry.

Please contact
Tiffany Strickland
for more information on the following religious emphasis projects:
Religious Emblems for Boy Scouts:

Please contact
Ann Resch
for more information on the following emblem programs:
LIGHT OF CHRIST  (Tiger Cubs & Wolf Cub Scouts):

This program helps a younger boy develop a personal relationship with Jesus.  He comes to see Jesus as a person and his friend.

PARVULI DEI  (Bear Cub Scouts & Webelos Scouts):

Young boys explore a wide range of activities in which they discover the presence of God in their daily lives as members of their families and parishes.

AD ALTARE DEI  (Boy Scouts 7th grade and older):

This program studies the Sacraments.  Scouts grow to recognize that sacramental encounters with Christ help them to develop a fuller Christian way of life.

POPE PIUS XII  (High School age Boy Scouts & Venturing young men & women):

Participants examine Christian daily life and are challenged to explore church ministries and vocations.  Young adults are encourage to share their faith with peers through discussion and reflection.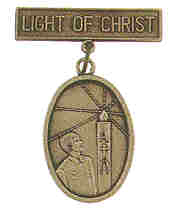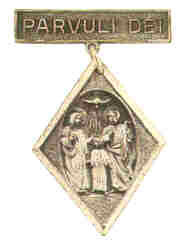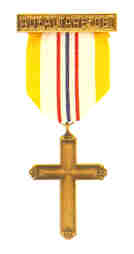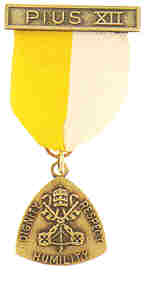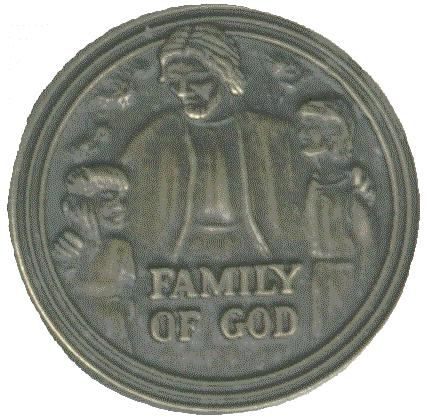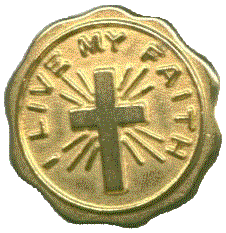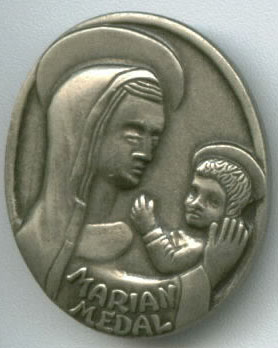 Deadline for completing requirements for 2010

Ceremony:

Feb 1, 2010